Enjoy the best quotes / moments from Supernatural's episode 'The British Invasion'.
'The British Invasion' is the 17th episode of season twelve. (s12e17)

In case you don't remember what was this episode about or you're not sure you've seen it, here is summary.
Plot summary
Sam and Dean get a lead on Kelly Kline's whereabouts. Mick drops by the bunker unexpectedly and decides to join the hunt. (Wikia)

Top 15 Supernatural Quotes from 12×17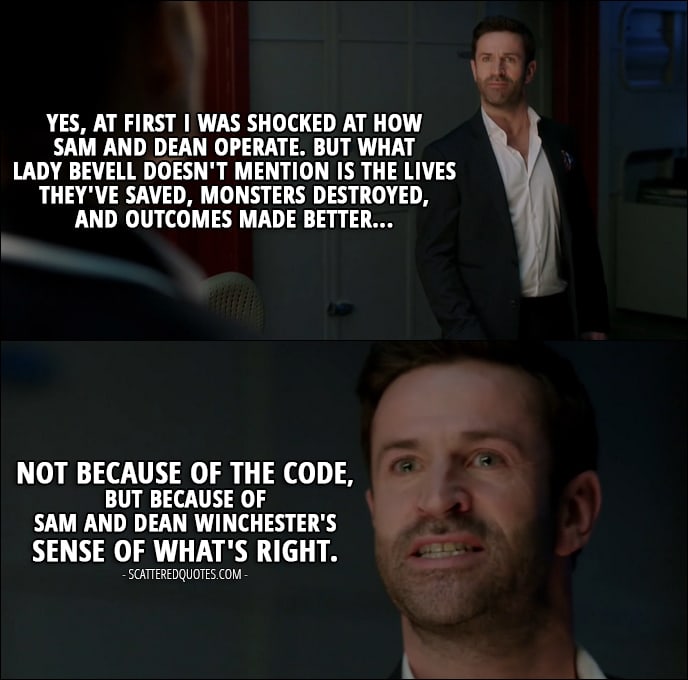 Ordered chronologically as they appear in the episode.
Dr. Hess (to young Mick and his friend Timothy): This organization does important work, gentlemen — work which allows millions of people to sleep safely in their beds at night. But in order to do this work, to protect those people, we need cadets who will employ their skills and execute orders without question. And so… only one of you will be leaving this room.
Dr. Hess (to Mick): We don't have time to court a handful of mangy Colonials. Not anymore. So either Sam and Dean and the rest of their ill-bred lot learn to obey, or you turn them over to Mr. Ketch… and start fresh.
Dean Winchester (to Sam): I gotta hand it to Mick. Man, you get him started, that guy can drink. I mean, we can drink, but he's got, like, the "Can Drink" gold medal.
Lucifer (to Crowley): I figured out the rules of the house, and… well, all things considered, I think I'd rather be here than rotting in the Cage with my drooling, insane, and not in a fun way, little bro Michael.
Arthur Ketch: Um, you'll make with the typey typey, yes?
Mick Davies: I'll file the report.
Arthur Ketch: Splendid. Ciao.
Mary Winchester: So you and Mick… longtime friends?
Arthur Ketch: More…survivors than friends. We were in school together.
Mary Winchester: Ah. Major in murder, minor in mayhem?
Crowley (to his demons): Even with Lucifer back in the Cage, there are those of you who would try to help him… because he scares you or engorges you. Just the chance that Lucifer could come back, the rumor, would've been enough to keep some of you working against me, undermining me, being a royal pain in my… pert, royal ass. But lo, the beast has been humbled.

Renny Rawlings (to Sam and Eileen): From what Mick tells me, neither of you have any formal training. Fascinating. I was top of my class at Kendricks —
Eileen Leahy: No one cares.
Dean Winchester: Who's this?
Sam Winchester: He's with Mick.
Renny Rawlings: I'm Renny Rawlings. Graduated Kendricks top of my —
Dean Winchester: Right. I don't care.
Mick Davies (talking about Eileen): She killed a Man of Letters. S-she has to die.
Sam Winchester: It was an accident!
Mick Davies: It doesn't matter! The Code.
Demon: You're sure Crowley is occupied elsewhere?
Lucifer: Yeah, he's on his rounds. Crowley's got, like, two and a half more hours of gettin' his pert, royal ass kissed.
Dagon (to Kelly): Your baby's strong, so strong. Whatever happens, he is going to be just fine. But you… won't. Yeah, those weird little pains? Just a taste of what's to come. 'Cause, you know, birthing a nephilim? Fatal. Always.
Mick Davies (to Dr. Hess): Yes, at first I was shocked at how Sam and Dean operate. But what Lady Bevell doesn't mention is the lives they've saved, monsters destroyed, and outcomes made better not because of the Code, but because of Sam and Dean Winchester's sense of what's right.
Mick Davies (to Dr. Hess): The code is what makes a young boy kill his best friend. When I was a child, I had nothing. I owed you everything, and I obeyed. But I'm a man now, Dr. Hess, and I can see the choices, and I choose to do the right thing.

Dr. Hess: It's over. The grand experiment recruiting American Hunters has failed. Utterly.
Arthur Ketch: Mm. What would you like me to do?
Dr. Hess: Exterminate them. Every…last…one.
More Supernatural Quotes:
Previous episodes:
» 18 Best Supernatural Quotes from 'Ladies Drink Free' (12×16)
» 18 Best Supernatural Quotes from 'Somewhere Between Heaven and Hell' (12×15)
» 12 Best Supernatural Quotes from 'The Raid' (12×14)
» 10 Best Supernatural Quotes from 'Family Feud' (12×13)
» 18 Best Supernatural Quotes from 'Stuck in the Middle (With You)' (12×12)