Enjoy the best quotes / moments from Supernatural's episode 'LOTUS'.
'LOTUS' is the 8th episode of season twelve. (s12e08)

In case you don't remember what was this episode about or you're not sure you've seen it, here is summary.
Plot summary
Lucifer's search for power and influence in a vessel lands him in the White House. The President of The United States unknowingly makes a deal with the devil, leading Sam, Dean, Castiel, Crowley and Rowena to band together to fight the Dark Lord. (KsiteTV)

Top 14 Supernatural Quotes from 12×08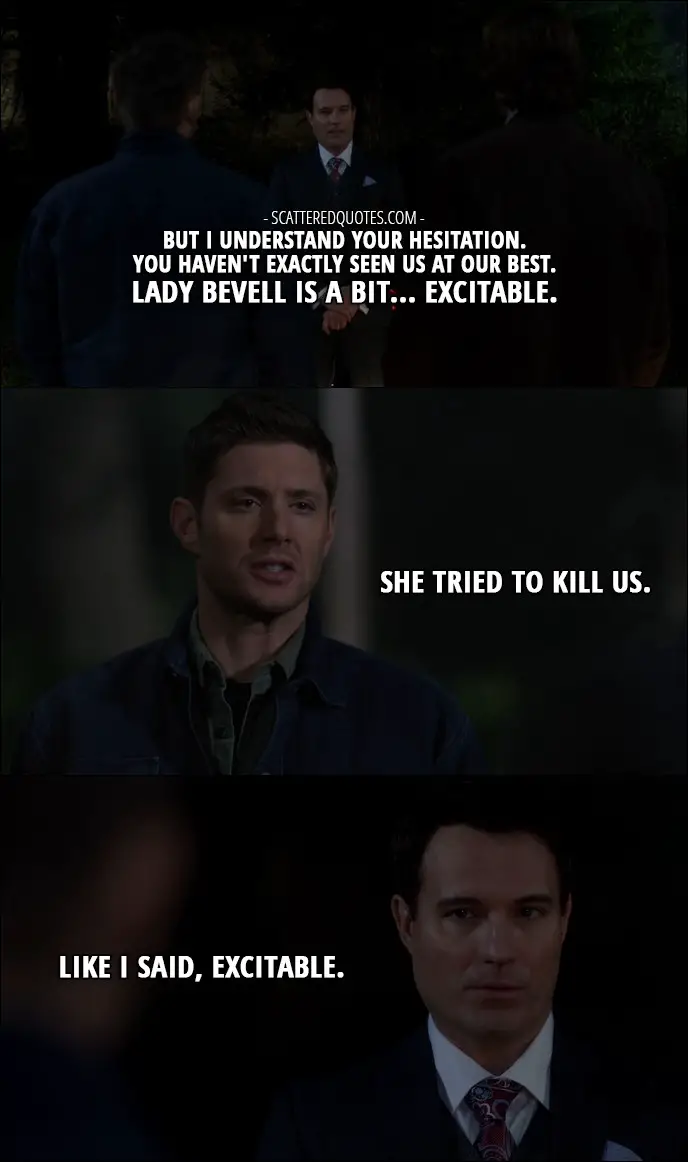 Ordered chronologically as they appear in the episode.
Deputy Coroner (to Sam and Dean): Your colleagues are already inside.
Crowley and Castiel (at the same time): Agents.
Dean Winchester: Okay, this has gotta stop.
Castiel: I agree with Agent Zappa (Crowley).
Dean Winchester: Oh, will you stop?
Dean Winchester (to Sam): Well, we'll have a look around. If it is Lucifer, we'll call the rest of the Scooby gang.
Kelly Kline: Sir, is it time to involve the U.N.?
Lucifer: Mm. That or we can just go ahead and nuke 'em.
Sam Winchester: So — so now Crowley can just…what, drop in whenever he feels like it? I-I prefer keeping Crowley at a distance. Long distance.
Crowley: Not very charitable, Moose… particularly since, once again, I'm saving both your asses.

Sam Winchester: Crowley, can we just get the damn news without the drama?
Crowley: Can I get you without the flannel? No. Still, I endure.
Lucifer: We have reliable Intel that two mentally unstable individuals, possibly cult members, have imminent plans to assassinate me.
Rick Sanchez: What? Why?
Lucifer: Because I'm Satan. They think I'm Satan.
Rick Sanchez: Not metaphorically?
Lucifer: Mm. In the flesh.

Crowley (to Rowena): Mother.
Louis: "Mother"?
(Crowley blows Louis into pieces)
Rowena: That is the sweetest thing you've ever done for me.
Castiel: A nephilim is come into being. It's the offspring of an angel and a human.
Dean Winchester: And that's big news?
Castiel: Yes, but the power to produce this is immense. It's much, much greater than a typical angel.
Sam Winchester: Lucifer.
Dean Winchester: W– Lucifer? I didn't know he was dating.
Sam Winchester: You guys know who you're talking to?
Rick Sanchez: Winchesters. You make those toy badges in craft class on the psyche ward? Nice car, by the way. Really stands out.
Arthur Ketch: You, Halo. Do you sense I'm lying?
Castiel: My name is Castiel. And… no. But the truth can be situational.
Arthur Ketch: Oh. Oh, I do enjoy an angel.
Arthur Ketch: But I understand your hesitation. You haven't exactly seen us at our best. Lady Bevell is a bit… excitable.
Dean Winchester: She tried to kill us.
Arthur Ketch: Like I said, excitable.

Kelly Kline: Who are you people?
Rowena: Well, dear, I'm a witch. He's an angel.
Crowley: And I'm the King of Hell.
Kelly Kline: Oh, God.
Castiel: No, actually, he left.
Sam Winchester: Okay, guys, not helping.
Dean Winchester: Does he even know you're knocked up?
Kelly Kline: Yes, he… He said he was thrilled. He said it was the only time he ever created anything.
See all quotes from the series:
/a>