Enjoy the best quotes / moments from Shadowhunters' episode 'Moo Shu to Go'.
'Moo Shu to Go' is the 5th episode of season 1. (s01e05)

In case you don't remember what was this episode about or you're not sure you've seen it, here is summary.
Plot summary
 Tensions escalate between Alec and Clary as they don't see eye to eye on the best way to hunt down Valentine. But when Jace and Isabelle are sent on an intel mission to the Seelies by Maryse Lightwood, Alec is put in charge of keeping Clary safe, much to both of their chagrin. With his hard-as-nails mother back in town and Clary's rule-breaking tendencies, Alec finds himself struggling to stick to the Claves rules while keeping his promise to Jace.
Meanwhile, the New York City Werewolf pack begins their hunt for Clary and The Mortal Cup. (
PogDesign
)
Top 13 Shadowhunters Quotes from 1×05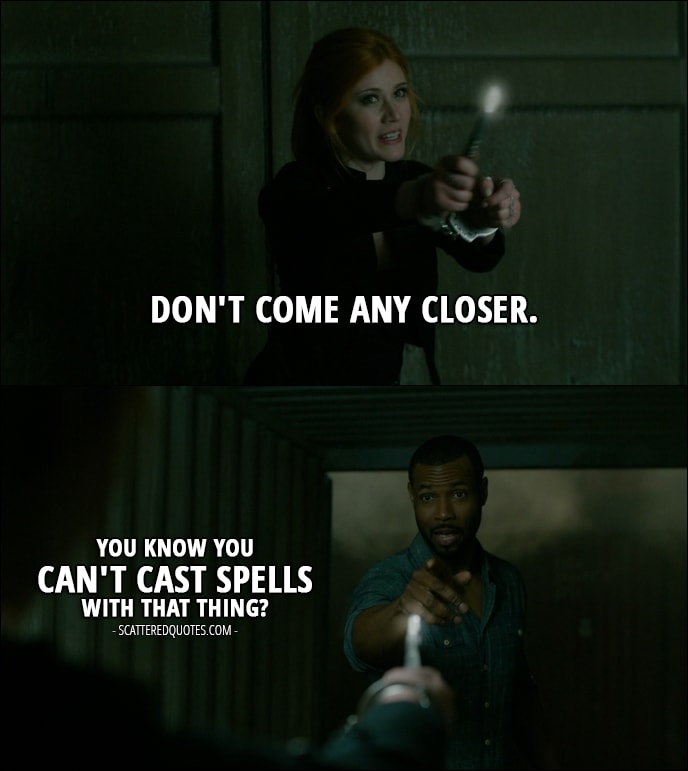 Ordered chronologically as they appear in the episode.
Maryse Lightwood: Isabelle, we stay separate from the Downworld for good reasons. The wrong move, the wrong word… Do you think there is such a thing as harmless rebellion? Who knows what offends these creatures Maybe you told him… them… something they shouldn't know. Maybe you trod on one of their ridiculous customs without knowing it. When someone upsets the natural order, everything falls apart.
Alec Lightwood: You have every right to be mad at me.
Jace Wayland: What did you do? Throw my leather jacket in the washing machine again?
Alec Lightwood: At Magnus's. The demon… image of you.
Jace Wayland: That? You love me… so? I love you, too, Alec. Come on, man. We're parabatai. We're brothers. We've spent almost our whole lives together. How could we not love each other? This is what's been bothering you? Seriously?
Alec Lightwood: Yeah. You're right. That's true. I just thought you'd think that…
Jace Wayland: What? Whatever, okay.
Alec Lightwood: You know, now's not a really good time for me. Another time? Gotta go.
Magnus Bane: Playing hard to get. I love a challenge.
Alec Lightwood (to Clary): And what's the point of an Invisibility rune if you don't silence your phone?

Alec Lightwood: Climbing a fire escape excites mundanes. I'll never understand these people.
Clary Fray: This is from when Simon and I were engaged to be married.
Alec Lightwood: You were engaged? I'm almost certain I don't wanna hear this story…
Simon Lewis: We were eight years old.
Clary Fray: That was a whole other world ago.
Simon Lewis (to alpha werewolf): Do you always handcuff people you wanna talk to? (to Clary): I bet this guy has one of the scariest online profiles ever.
Clary Fray: Don't come any closer.
Luke Garoway: You know you can't cast spells with that thing?

Isabelle Lightwood: I'm getting seriously tired of saving your life.
Simon Lewis: I am not!
Luke Garoway (to Clary): I promised your mother I'd always protect you.
Clary Fray: I never should have doubted you.
Luke Garoway: We never should have lied to you.
Clary Fray (to Luke): Luke, hey! It's okay. We're getting you help, okay? Just, please, don't leave me again. I can't have anyone else die because of me.