Enjoy the best quotes / moments from The Good Doctor's episode 'Burnt Food'.
'Burnt Food' is the 1st episode of season 1. (s01e01)

In case you don't remember what was this episode about or you're not sure you've seen it, here is summary.
Plot summary
The president of San Jose St. Bonaventure Hospital pleads his case to the reluctant board of directors to allow a young doctor with savant syndrome and autism onto their surgical staff. (
IMDb
)
Top 11 The Good Doctor Quotes from 1×01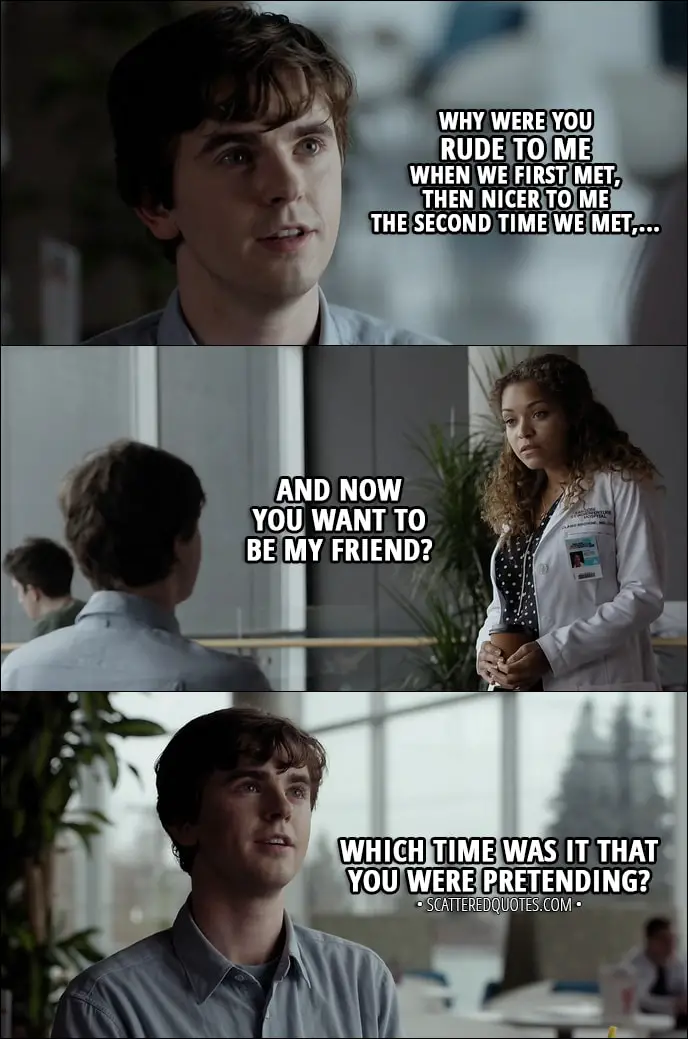 Sorted chronologically as quotes appear in the episode.
Marcus Andrews (to Dr. Glassman): You've known him since he was 14? You care about him. He's like a son to you.
Jessica Preston: Dr. Andrews, your wife is gonna be very upset with you. If you're trying to turn this into a nepotism case, we're gonna have to fire her idiot nephew from bookkeeping. 
Airport security: You can't be back here.
Shaun Murphy: Oh, I need a knife. Where do you keep the knives people forget they're traveling with? 
Marcus Andrews: A surgeon needs to communicate… not just information, but sympathy, empathy. Can Dr. Murphy do that? He can't even reliably show up for a job interview. Are you gonna sit here and tell us that there were no other equally-qualified young surgeons… surgeons without this one's… issues?
Aaron Glassman: No. Which is why… exactly why… we should hire Shaun. We should hire him because he is qualified and because he is different. 
Aaron Glassman: We hire Shaun, and we give hope to those people with limitations that those limitations are not what they think they are, that they do have a shot! We hire Shaun, and we make this hospital better for it. We hire Shaun, and we are better people for it. 
Assistant: You need to go online.
Jessica Preston: What? What site?
Assistant: Pretty much any of them… Twitter, YouTube, any local news site. The YouTube clip already has over 200,000 views. Apparently, he's one of our doctors. 
Steve Murphy: I got you a present.
Shaun Murphy: It's not my birthday.
Steve Murphy: I got you a present anyway.
(Steve gives him a toy scalpel) 
Shaun Murphy (to Claire): Why were you rude to me when we first met, then nicer to me the second time we met, and now you want to be my friend? Which time was it that you were pretending? 
Aaron Glassman: If Shaun doesn't live up to everything I know he can do, he will be immediately released. And I will resign my position as President of this hospital. 
Shaun Murphy: The day that the rain smelled like ice cream, my bunny went to heaven in front of my eyes. The day that the copper pipes in the old building smelled like burnt food, my brother… went to heaven in front of my eyes. I couldn't save them. It's sad. Neither one had the chance to become an adult. They should have become adults. They should have had children of their own and loved those children. And I want to make that possible for other people. And I want to make a lot of money so that I can have a television. 
Steve Murphy: Never forget, you're the smart one. You can do anything. And I'm proud of you, Shaun. 

Neil Melendez: You're a nice kid, and you're obviously very smart, but you don't belong here. So, as long as you're part of my team, this is all you're ever going to be doing… suction.
Shaun Murphy: I saw a lot of surgeons in medical school. You're much better than them. I have a lot to learn from you… You're very arrogant. Do you think that helps you be a good surgeon? Does it hurt you as a person? Is it worth it?
More The Good Doctor Quotes: