Enjoy going through the collection of best quotes from Star Wars: Attack of the Clones (2002).
Attack of the Clones is the second movie from the Star Wars Saga, otherwise known as Episode II (Episode 2).
If you're in need of refreshing your memory before jumping in the quotes, here is a short summary of the plot.
Plot summary
Ten years after initially meeting, Anakin Skywalker shares a forbidden romance with Padme Amidala, while Obi-Wan investigates an assassination attempt on the senator and discovers a secret clone army crafted for the Jedi. (IMDb)
Top 10 Quotes from 'Star Wars: Episode II – Attack of the Clones' (2002)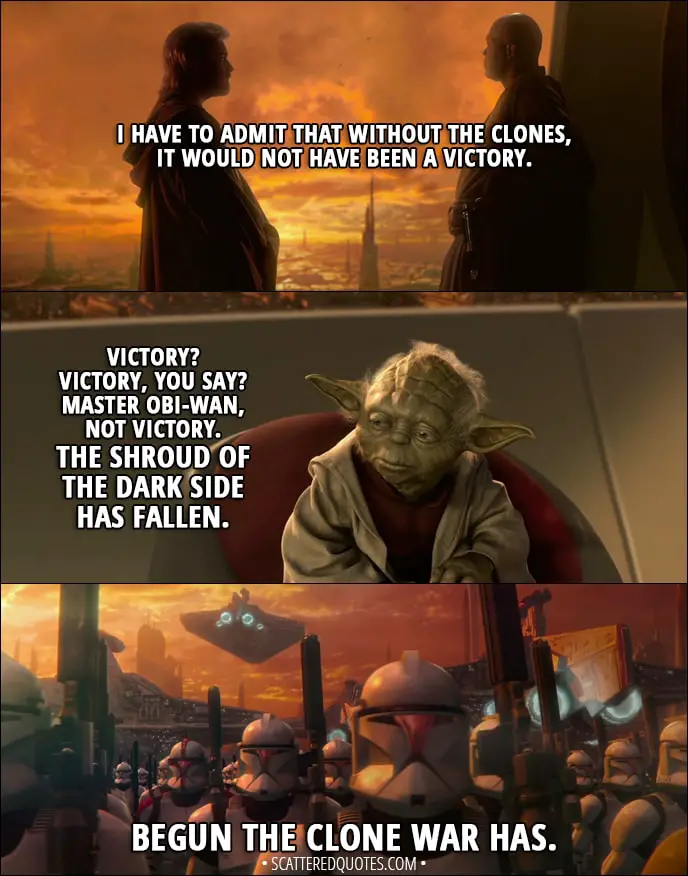 Sorted chronologically as quotes appear in the movie.
Anakin Skywalker: She hardly even recognized me, Jar Jar. I've thought about her every day since we parted and… she's forgotten me completely.
Jar Jar Binks: Shesa happy. Happier den mesa seein her in a longo time.
Obi-Wan Kenobi: You're focusing on the negative, Anakin. Be mindful of your thoughts. She was pleased to see us. 
Obi-Wan Kenobi: If you spent as long practising your sabre techniques as you do your wit… you would rival Master Yoda as a swordsman.
Anakin Skywalker: I thought I already did.
Obi-Wan Kenobi: Only in your mind, my very young apprentice. 
Padmé Amidala (to Anakin): All mentors have a way of seeing more of our faults than we would like. It's the only way we grow. 
Obi-Wan Kenobi (about Anakin): I do hope he doesn't try anything foolish.
Gregar Typho (about Padmé): I'd be more concerned about her doing something than him. 
Queen Jamillia: The day we stop believing democracy can work is the day we lose it. 
Anakin Skywalker: From the moment I met you… all those years ago… not a day has gone by when I haven't thought of you. And now that I'm with you again… I'm in agony. The closer I get to you, the worse it gets. The thought of not being with you… I can't breathe. I'm haunted by the kiss that you should never have given me. My heart is beating hoping that that kiss will not become a scar. You are in my very soul… tormenting me. What can I do? I will do anything that you ask. If you are suffering as much as I am, please, tell me. 
Anakin Skywalker: We could keep it a secret.
Padmé Amidala: We'd be living a lie… one we couldn't keep even if we wanted to. I couldn't do that. Could you, Anakin? Could you live like that?
Anakin Skywalker: No. You're right. It would destroy us. 
Padmé Amidala: Sometimes there are things no one can fix. You're not all-powerful, Ani.
Anakin Skywalker: Well, I should be! Someday I will be. I will be the most powerful Jedi ever. I promise you. I will even learn to stop people from dying. 

Padmé Amidala: I'm not afraid to die. I've been dying a little bit each day since you came back into my life.
Anakin Skywalker: What are you talking about?
Padmé Amidala: I love you.
Anakin Skywalker: You love me? I thought that we had decided not to fall in love… that we would be forced to live a lie… and that it would destroy our lives.
Padmé Amidala: I think our lives are about to be destroyed anyway. I truly… deeply… love you… and before we die, I want you to know. 
Obi-Wan Kenobi: I have to admit that without the clones, it would not have been a victory.
Yoda: Victory? Victory, you say? Master Obi-Wan, not victory. The shroud of the dark side has fallen. Begun the Clone War has.
See all quotes from the movie:
Your turn
• What did you think about Attack of the Clones?
• What is your favorite quote from it?
If you enjoyed this list, please consider sharing it. I'd appreciate it, thank you!