Enjoy the best quotes / moments from Teen Wolf's episode 'Face-to-Faceless'.
'Face-to-Faceless' is the 14th episode of season 6. (s06e14)

In case you don't remember what was this episode about or you're not sure you've seen it, here is summary.
Plot summary
 Scott, Lydia, and Malia must take drastic measures to quell the growing violence in Beacon Hills, while Liam endures his own gauntlet at the high school. (
Wikia
)
Top 10 Teen Wolf Quotes from 6×14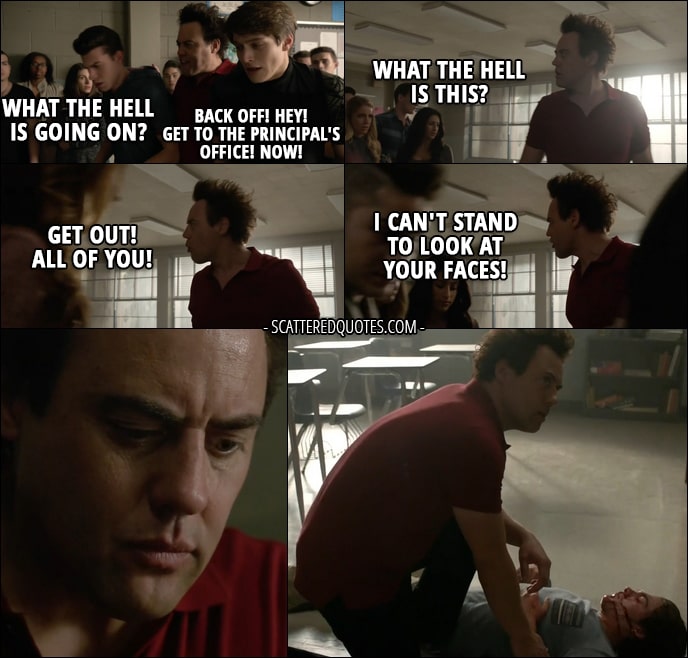 Ordered chronologically as they appear in the episode.
Scott McCall: Now all you do is pretend like nothing happened.
Liam Dunbar: Pretend? I'm just supposed to pretend?
Scott McCall: Think of it like when Superman gets caught with his glasses off. You know, he doesn't give up. He puts them back on and says, "I'm still Clark Kent."
Liam Dunbar: You want me to wear glasses?
Scott McCall: No! I want you to go to school, okay? 
Scott McCall: Just like how Superman has to be Clark Kent, like Spider-Man, and Captain America…
Liam Dunbar: Captain America is just Steve Rogers. He doesn't have to pretend. Everyone already loves him. Unlike us, who everyone hates. They hate us for trying to save their lives. 
Scott McCall: Now we know that whoever this new hunter is, he has a teacher.
Chris Argent: Gerard. Which means this is my fault. I'm the one who let him go.
Lydia Martin: You couldn't have done anything.
Malia Tate: He could've killed him. Just saying.
Lydia Martin: We're not executioners. 
Chris Argent (to Scott): You're gonna have to figure out just how much you're willing to give, and how far you're willing to go to stop a war. 
Chris Argent: What is the message I'm taking back? What do I tell Scott?
Gerard Argent: You tell him to run. 
Melissa McCall: I take it Gerard's not gonna meet?
Chris Argent: He's not interested in negotiating.
Melissa McCall: What does he want?
Chris Argent: As far as I can tell, he… Genocide. 
Melissa McCall: I'm supposed to just tell him to give up?
Chris Argent: I'm not asking him to give up. I just want him to survive.
Melissa McCall: I've never told Scott to run and hide and I'm not going to start now. 
Coach Finstock (to students): What the hell is going on? Back off! Hey! Get to the Principal's office! Now! What the hell is this? Get out! All of you! I can't stand to look at your faces!
(coach saving Liam from more beat up) 
Gerard Argent: You didn't fail. You gave the people of Beacon Hills what they've always needed. A voice. And as a victim yourself, you make the perfect messenger.
Tamora Monroe: And what exactly is our message?
Gerard Argent: That this world belongs to us. 
Malia Tate: Who did this to you? A hunter?
Werewolf girl: A deputy.
Lydia Martin: They've got a deputy?
Scott McCall: They've got everyone.
More Teen Wolf Quotes:
Previous episodes:
» 13 Best Teen Wolf Quotes from 'Riders on the Storm' (6×10)
» 10 Best Teen Wolf Quotes from 'Superposition' (6×02)
» 10 Best Teen Wolf Quotes from 'Memory Lost' (6×01)
» 13 Best Teen Wolf Quotes from Apotheosis (5×20)
» 10 Best Teen Wolf Quotes from The Beast of Beacon Hills (5×19)