Enjoy the best quotes / moments from Teen Wolf's episode 'Memory Lost'.
'Memory Lost' is the first episode of season 6. (s06e01)

In case you don't remember what was this episode about or you're not sure you've seen it, here is summary.
Plot summary
With graduation approaching, a supernatural force rides into Beacon Hills and crosses paths with Scott McCall and his friends, while Liam discovers evidence of a new enemy in the high school. (
Wikia
)
Top 10 Teen Wolf Quotes from 6×01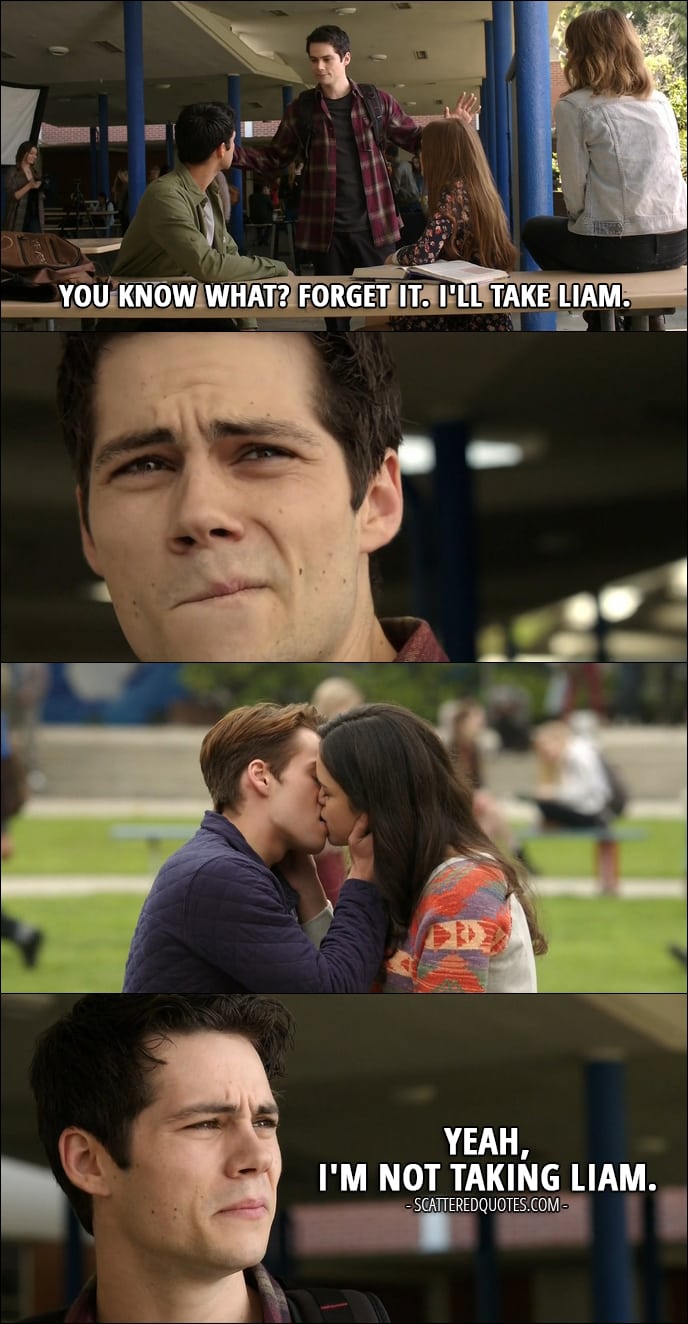 Ordered chronologically as they appear in the episode.
Sheriff Stilinski: You want to guess what the stolen merchandise is? Hmm?
Stiles Stilinski: Critical life-saving medical equipment?
Sheriff Stilinski: No.
Stiles Stilinski: Poison gas?
Sheriff Stilinski: Nope.
Stiles Stilinski: Filled with drugs?
Sheriff Stilinski: Helium.
Stiles Stilinski: Helium?
Lydia Martin: It sounds like you want it to be supernatural.
Stiles Stilinski: It's been, like, three months since anything's happened.
Lydia Martin: Yeah, and once a week you drag me out of bed like I'm some sort of supernatural metal detector.
Stiles Stilinski: Okay, it is way more often than that. You can't tell me that you think this is just some series of impossible coincidences?
Stiles Stilinski: You know what? Forget it. I'll take Liam. (sees Liam making out with Hayden) Yeah, I'm not taking Liam.

Stiles Stilinski: Lydia, you're so smart, I could kiss you right now!
Lydia Martin: Do not kiss me.
Stiles Stilinski: Not gonna, no. (kisses her on a cheek) Muah. Did it anyway!
Liam Dunbar (to Hayden and Mason): Stand back.
(Liam charges against to door to get them open, Mason opens them and Liam falls in)
Mason Hewitt (to Hayden): It's open.
Stiles Stilinski: Hey, Scott, wait. Um, I, I just, uh… I wanted to say, um…
Scott McCall: Tell me later.
Stiles Stilinski: Yeah, all right.
Sheriff Stilinski: Son, you okay?
Stiles Stilinski: Oh, thank God. Thank God. Everyone's forgetting. Everyone is forgetting everything…
Sheriff Stilinski: Okay, okay, slow down, slow down. We'll figure this out together.
Stiles Stilinski: Okay.
Sheriff Stilinski: Now, why don't you tell me your name?
Lydia Martin: Stiles!
Stiles Stilinski: Lydia? You know me. Oh, thank God. You know me.
Lydia Martin: I know you. But I think everybody else is forgetting.

Stiles Stilinski: Just try to find some way to remember me, okay? Remember how you were the first girl I ever danced with? Or how I had a crush on you freshman year. Sophomore year? Junior year? Remember how you saved my life?
Lydia Martin: You saved my life too.
Stiles Stilinski: Just remember… Remember I love you.
Lydia Martin: Remember… Remember… Remember…
Malia Tate: You okay?
Lydia Martin: I have this feeling that I was supposed to do something.
Scott McCall: Do what?
Lydia Martin: I can't remember.
More Teen Wolf Quotes:
Previous episodes:
» 13 Best Teen Wolf Quotes from Apotheosis (5×20)
» 10 Best Teen Wolf Quotes from The Beast of Beacon Hills (5×19)
» 14 Best Teen Wolf Quotes from Lies of Omission (5×09)
» 15 Best Teen Wolf Quotes from Ouroboros (5×08)
» 28 Teen Wolf Quotes from Strange Frequencies (5×07)