Enjoy the best quotes from Shadowhunters' episode 'What Lies Beneath'.
'What Lies Beneath' is the 10th episode of season 3. (s03e10)

If you're in need of refreshing your memory before jumping in the quotes, here is a short summary of the plot.
Plot summary
The team scrambles to find a way to put a stop to Lilith's plan coming to fruition. But going up against their biggest opponent yet, their odds are not looking good. Meanwhile, Simon makes a heartbreaking choice with Isabelle's help and Magnus reconnects with a powerful person from his past. (
Wikia
)
Top 10 Shadowhunters Quotes from 3×03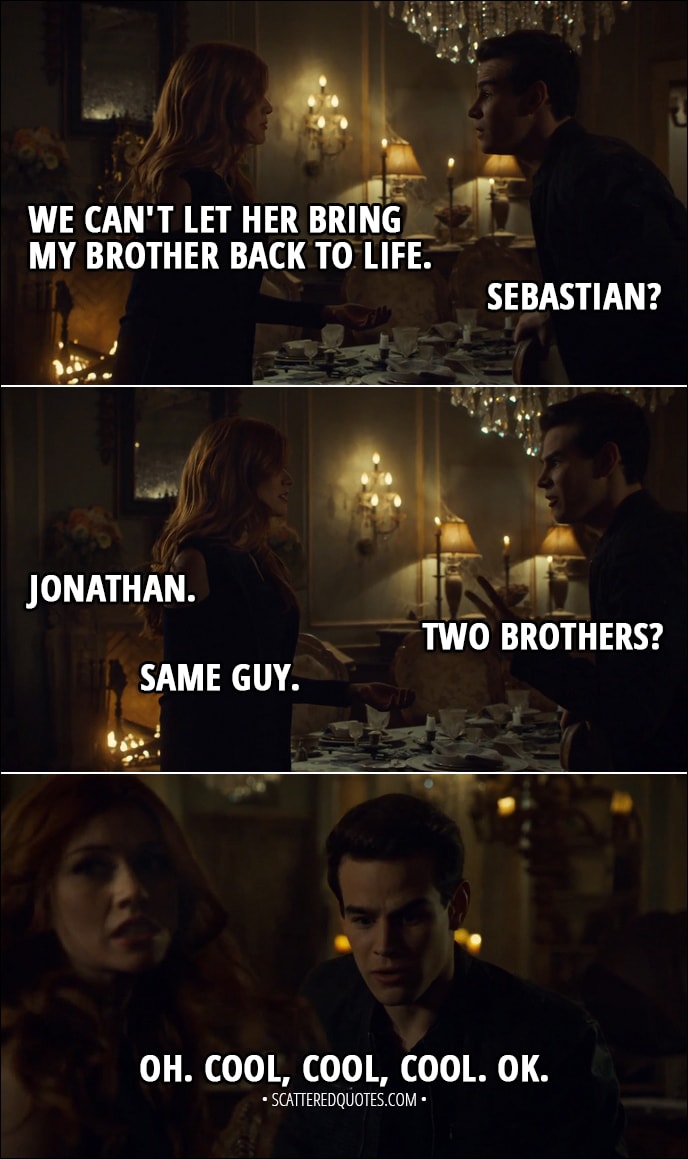 Sorted chronologically as quotes appear in the episode.
Clary Fairchild: Let me talk to him. Please. Give him back to me. I can't lose him again.
Jace Herondale (The Owl version): There is no version of this where your Jace wakes up and comes home.
Clary Fairchild: Jace, if you can hear me in there, I will never give up on you. Never. 
Alec Lightwood: It's been hundreds of years since you banished your father. What makes you think he'll even listen to your request?
Magnus Bane: Let's just say he owes me one.
Alec Lightwood: For what happened with your mother?
Magnus Bane: That… and for everything in the years that followed. I was living on the streets. I didn't know who or what I was. Asmodeus took me in. Nurtured my darker impulses. And taught me the "proper" way to be a warlock.
Alec Lightwood: And why'd you listen to him?
Magnus Bane: Because he was the only one in the world with eyes like me. He was my father. 

Alec Lightwood: You're gonna make it back. You hear me?
Magnus Bane: Why wouldn't I? Look what I have waiting for me. (They kiss, Magnus steps into the pentagram) I love you, Alexander.
Alec Lightwood: I love you too.

Rebecca Lewis: How did I not know about this sooner?
Simon Lewis: You and Mom both did. I had a vampire friend hypnotize both of you to forget.
Rebecca Lewis: Oh… Can you do that too?
Simon Lewis: Yeah. And I… I will totally do that for you too.
Rebecca Lewis: No! No. Simon, I wasn't there for you once. And I will never not be there for you again. I'm your big sister… and I'm always gonna love you. Warts, fangs and all. 
Simon Lewis (to his mother): Your son, Simon… he isn't a vampire. That's just how you're dealing with your grief. There was an accident. But your son felt no pain. And in his last moments… In his last moments, he thought about how much he's gonna miss you. And, no matter where he ends up in his next life… He will never stop thinking about you. He will always love you. Simon Lewis is dead. 
Asmodeus: Why would I ever give you the means by which Lilith could be banished back here to lord over us all? Edom may not be Marseille, but it's a hell of a lot less miserable with her gone.
Magnus Bane: Name your price.
Asmodeus: "There is a time when we all must return to live in the houses of our fathers." Rule beside me.
Magnus Bane: I never should have come.
Asmodeus: Say what you will about the time we spent together, but you have to admit, you enjoyed every minute of it.
Magnus Bane: I was a child! Father… I have never once come here to ask you for anything. There must be something else I can give you.
Asmodeus: Actually, my son… there is. 
Alec Lightwood: I have another way you can be helpful. (hans him a stele)
Simon Lewis: What am I gonna do with a steely?
Alec Lightwood: Stele.
Simon Lewis: I've heard it both ways. 

Magnus Bane: Stay with me!
Alec Lightwood: Mom said… you'd make a dramatic entrance.
Magnus Bane: Wise woman. 
Clary Fairchild: We can't let her bring my brother back to life.
Simon Lewis: Sebastian?
Clary Fairchild: Jonathan.
Simon Lewis: Two brothers?
Clary Fairchild: Same guy.
Simon Lewis: Oh. Cool, cool, cool. OK. 
Jace Herondale: Where is she? Where's Clary?
Simon Lewis: I killed her. Clary's dead.
See all quotes from the series:
Your turn
• What did you think about this episode?
• What is your favorite quote from it?
If you enjoyed this list, please consider sharing it. I'd appreciate it, thank you!