Enjoy the best quotes / moments from Shadowhunters' episode 'What Lies Beneath'.
'What Lies Beneath' is the third episode of season 3. (s03e03)

If you're in need of refreshing your memory before jumping in the quotes, here is a short summary of the plot.
Plot summary
The Shadowhunters try to track down the new imposing threat, while Jace has a suspicion that Jonathan is back and behind the mundane attacks. Simon tries to figure out what the Seelie Queen did to him during his time in the glade. Alec decides to host a Lightwood family dinner at Magnus' house after a surprising visit from Maryse. (
Wikia
)
Top 10 Shadowhunters Quotes from 3×03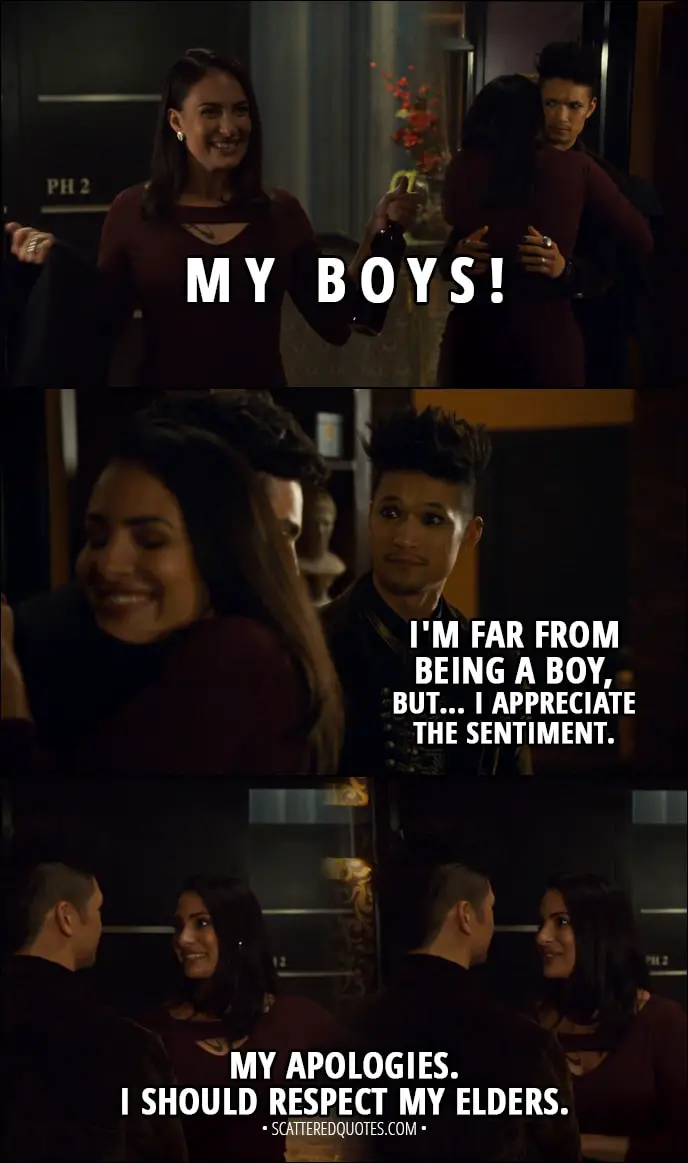 Sorted chronologically as quotes appear in the episode.
Izzy Lightwood: We just got a fire message from Mom, saying she's "dropping by" for an impromptu "family dinner."
Magnus Bane: Those are a lot of air quotes. 
Izzy Lightwood: Wait. You should be there.
Magnus Bane: Hm-mm…
Izzy Lightwood: Think about it: if Magnus is there being his usual charming self… Mom won't have time to interrogate us.
Magnus Bane: I am charming.
Alec Lightwood: You don't think it's too much?
Magnus Bane: "Too much" is my middle name. 

Magnus Bane (to Alec): Look, clearly this is important to you. Ergo… it's important to me. 
Raphael Santiago: The night he left he, um… snuck into your room, and… gave you one last hug.
Rosa Santiago: I don't remember.
Raphael Santiago: Oh, no. He… he did! He did. He couldn't say why. And it broke his heart to leave. And he promised you if you ever felt lonely, all you had to do is look up at those stars… and know that your big brother was out there, thinking of you. 
Magnus Bane (to Alec): You're a sweet man, Alexander. And so adorable with radish in your hair. 
Alec Lightwood: Remember, my mother is on edge and that means avoiding any sensitive subjects, like my dad, or like that I turned down that job at the Clave.
Magnus Bane: Or the fact that you're dating a dastardly warlock? Hmm?
Alec Lightwood: I'm sorry. Am I being terrible?
Magnus Bane: No, no, no. You're just tense. Here. Drink this. (hands him a glass of wine, Alec downs it)
Alec Lightwood: I'm OK. You're OK?
Magnus Bane: Oh, I'm OK.
Alec Lightwood: OK.
Magnus Bane: You're OK. 
Maryse Lightwood: My boys! Oh!
Magnus Bane: Oh, oh, oh… I'm far from being a boy, but… I appreciate the sentiment.
Maryse Lightwood: My apologies. I should respect my elders. 
Maryse Lightwood: Alec and Isabelle made this for me when they were little kids. To see the looks on their faces when they brought it to me… It still warms my heart. But that stew! I still have nightmares! 
Alec Lightwood: If you're not going to fight this thing, I will. Even if that means stepping down from the Institute.
Maryse Lightwood: No. Seeing what you have accomplished as Head of the Institute… nothing has made me prouder. The Clave's always had its faults. My generation nearly destroyed everything in our passion to fix it. Yours will have to be wiser. 

Maryse Lightwood (to Magnus): I may have had my prejudices in the past… but seeing you stand by Alec? It's what every mother wants for her children. Thank you for loving my boy.
See all quotes from the series:
Your turn
• What did you think about this episode?
• What is your favorite quote from it?
If you enjoyed this list, please consider sharing it. I'd appreciate it, thank you!