Enjoy the best quotes / moments from Shadowhunters' episode 'Love Is a Devil'.
'Love Is a Devil' is the 8th episode of season 2. (s02e08)

In case you don't remember what was this episode about or you're not sure you've seen it, here is summary.
Plot summary
TENSIONS RUN HIGH: Max's Rune Ceremony brings everyone's fears to the forefront.
Tasked with arranging his brother Max's Rune Ceremony, Alec decides this would be the perfect opportunity for his family to get to know Magnus. But with tensions flying among the different Shadowhunters, Max's big event quickly becomes an evening where they all must face their biggest fears.
Meanwhile, Simon makes a bold move as Isabelle finds an unlikely new ally. (
Wikia
)
Top 10 Shadowhunters Quotes from 2×08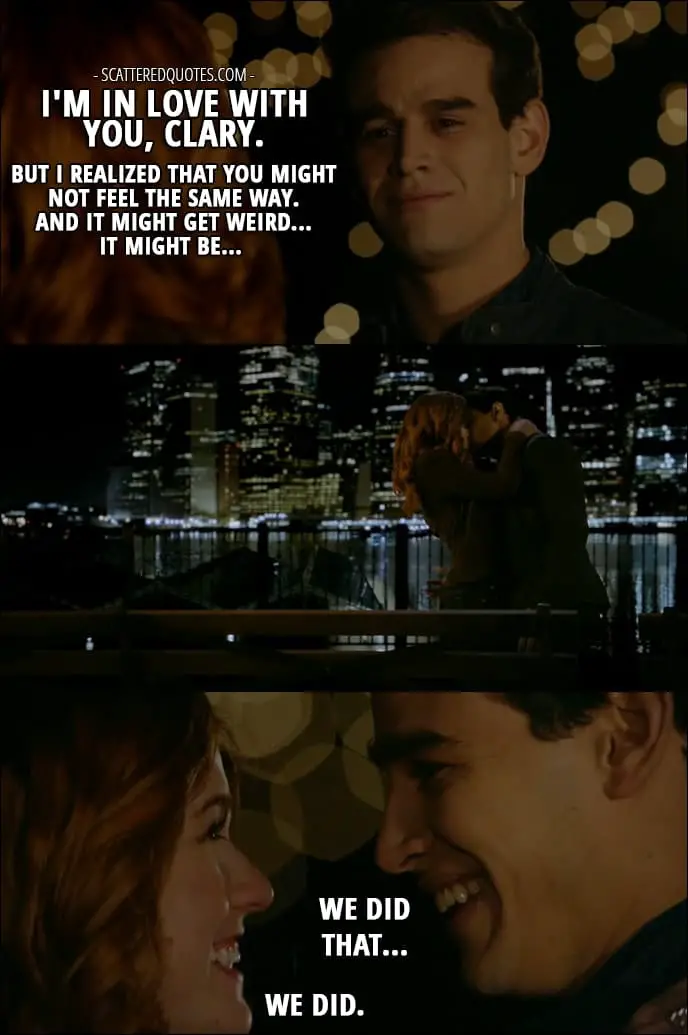 Ordered chronologically as they appear in the episode.
Isabelle Lightwood: I thought you hated me.
Raphael Santiago: Call it an intense dislike.
Alec Lightwood: What's going on?
Max Lightwood: Mom doesn't like you having a warlock boyfriend.
Alec Lightwood: And you?
Max Lightwood: Whatever, I don't care.
Alec Lightwood: My mother's back.
Magnus Bane: Which means I'll make myself scarce.
Alec Lightwood: How would you feel about throwing a party?
Magnus Bane: Have you met me?
Alec Lightwood: It is for Max's Rune Ceremony.
Magnus Bane: I think I'll pass.
Simon Lewis: I'm in love with you, Clary. But I realized that you might not feel the same way. And it might get weird… It might be… (Clary kisses him) We did that…
Clary Fray: We did.
Simon Lewis: Was it, you know… Weird?
Clary Fray: Yeah. In the best way possible.

Jace Wayland (about Alec): Look, I'll make this simple, okay? I'm never gonna let anyone hurt him.
Magnus Bane: Then we have that in common. You think I'd invite Maryse Lightwood to my home for just anyone?
Maia Roberts: I'm actually happy I didn't maul you to death.
Jace Wayland: Why? So you can slowly annoy me to death instead?
Clary Fray: Magnus, what happens if we don't find your spell book?
Magnus Bane: That's not an option you want to explore. That book can undo every spell I've ever cast. From the elementary to the complex.
Simon Lewis (to Clary): This news of a Downworld apocalypse, it's not all bad. Because now, it's clearer than ever… I want to spend every minute of every day with you.
More Shadowhunters Quotes:
» All quotes from Shadowhunters
Previous episodes:
» 12 Best Shadowhunters Quotes from 'How Are Thou Fallen' (2×07)
» 14 Best Shadowhunters Quotes from 'Iron Sisters' (2×06)
» 10 Best Shadowhunters Quotes from 'Dust and Shadows' (2×05)
» 10 Best Shadowhunters Quotes from 'Day of Wrath' (2×04)
» 10 Best Shadowhunters Quotes from 'Parabatai Lost' (2×03)