Enjoy going through the collection of best quotes from Maze Runner: The Scorch Trials (2015).
Maze Runner: The Scorch Trials is the second movie in the Maze Runner trilogy.
If you're in need of refreshing your memory before jumping in the quotes, here is a short summary of the plot.
Plot summary
The second chapter of the epic "Maze Runner" saga. Thomas (Dylan O'Brien) and his fellow Gladers face their greatest challenge yet: searching for clues about the mysterious and powerful organization known as WCKD. Their journey takes them to the Scorch, a desolate landscape filled with unimaginable obstacles. Teaming up with resistance fighters, the Gladers take on WCKD's vastly superior forces and uncover its shocking plans for them all. (IMDb)
Top 10 Quotes from 'Maze Runner: The Scorch Trials' (2015)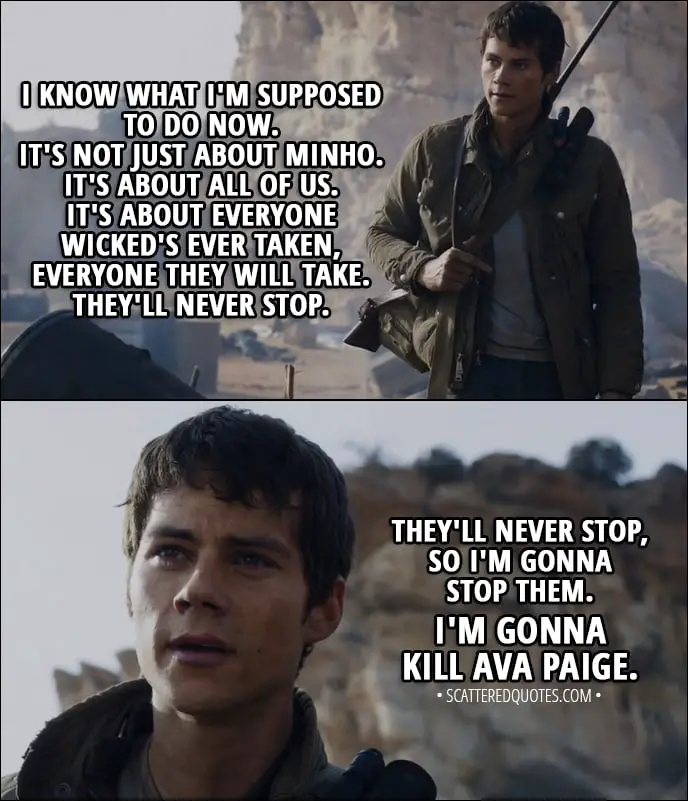 Sorted chronologically as quotes appear in the movie.
Frypan: I never thought I'd say it… I miss the Glade. 

Brenda: Hope is a dangerous thing. Hope has killed more of my friends than the Flare and the Scorch combined. 
Thomas: Whatever they tell you about me, whatever they say, I just need you to know I had to do it. Okay?
Teresa: What did you do?
Thomas: I just couldn't keep watching them die.
(Flashback) 
Mary: Interesting… It makes sense they'd put you in the maze. Though I must admit… I was worried they'd kill you after what you did.
Thomas: What I did?
Mary: The first time we spoke, you said you couldn't take it anymore… watching your friends die, one by one. The last time we spoke… you gave me the coordinates of every WICKED compound, trial and lab.
Vince: He was our source.
Mary: We couldn't have pulled all this off without him. 
Newt: I wish Alby could've seen all this.
Frypan: And Winston.
Newt: And Chuck. He'd be proud of you, you know, Tommy. 
Thomas: They're not looking for you. You'll be safe, but you have to go now.
Brenda: Thomas…
Thomas: I can't leave without them.
Jorge: Good luck, kid. 

Minho: Why didn't you run?
Thomas: I'm tired of running. 
Ava Paige: This is all just a means to an end. You used to understand that, Thomas. No matter what you think of me… I am not a monster. I'm a doctor. I swore an oath to find a cure! No matter the cost. I just need more time.
Mary: More blood. 

Newt: We're with you, Thomas.
Minho: Do it, Thomas.
Frypan: We're ready.
Thomas: We're not going back there. It's the only way.
Thomas: I made a promise to Minho. I wouldn't leave him behind. I have to go after him.
Vince: Hey, kid, look around you. All right? WICKED just kicked our ass. You think about where you're headed.
Thomas: I'm not asking anyone to come with me.
Newt: Thomas, listen to me. I've known Minho for… Well, as long as I can remember. So, if there was any way that we could help him… trust me, I would be up there standing next to you. This, what you're talking about… is impossible.
Jorge: More like suicide.
Thomas: Maybe. But I know what I'm supposed to do now. It's not just about Minho. It's about all of us. It's about everyone WICKED's ever taken, everyone they will take. They'll never stop. They'll never stop, so I'm gonna stop them. I'm gonna kill Ava Paige.
Harriet: I have to admit… I'd like some revenge.
Vince: Well, that's a good speech, kid. So, what's your plan?
See all quotes from the movie:
Your turn
• What did you think about Maze Runner?
• What is your favorite quote from the movies?
If you enjoyed this list, please consider sharing it. I'd appreciate it, thank you!