Enjoy going through the collection of the best quotes from Grey's Anatomy's episode 'Personal Jesus'.
'Personal Jesus' is the 10th episode of season 14. (s14e10)
If you're in need of refreshing your memory before jumping in the quotes, here is a short summary of the plot.
Plot summary
A young boy's case has a profound impact on the doctors of Grey Sloan Memorial; April faces a surprising patient; Jo deals with her estranged husband. (IMDb)
Top 10 'Grey's Anatomy' Quotes from 14×10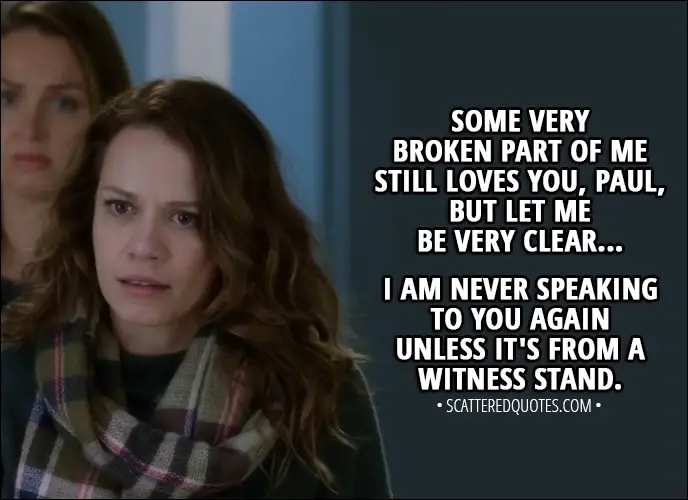 Sorted chronologically as the quotes appear in the episode.
April Kepner (narration): In the course of one day, Job received four messages, each with separate news that his livestock, servants, and 10 children had all died. He continued to be a faithful servant. He still prays to God. He persevered. Job's faith was tested and he passed the test. And for his faith, God rewarded Job with twice what he had before. "Eloi, Eloi, lama sabachthani?" That's what Jesus said on the cross before he died. "My God, my God, why have you forsaken me?" Job asked the question, too. But he kept the faith. And what did he get for it? Replacement children. PTSD. Was it worth it to have been a faithful servant? Or would it have been better to just curse God's name from the beginning? Where was God throughout all of Job's suffering and pain? He was winning a bet with Satan. Makes you wonder where He is through all of the unfairness and inequity and cruelty in the world. Where is He now? 
April Kepner: Webber just gave me the Grey Sloan Medical Innovation contest. The whole thing. Kind of freaking out.
Owen Hunt: Freaking out because you don't want it?
April Kepner: No. Why wouldn't I want it?
Owen Hunt: Uhh, I just think you'd want to compete is all.
April Kepner: Who wants to compete when you can be the judge?
Owen Hunt: Um, everyone?
April Kepner: Ev… He… He played me? Is that what you're saying? Dr. Webber played me?
Owen Hunt: I said nothing of the sort. But yes.
Jenny: I just want you to know you don't have to worry. I didn't tell the police anything.
Jo Wilson: What do you mean?
Jenny: I didn't tell them it was you. But thank you. Thank you so much. (few second later…) Wait. I-I was in the hotel. He got mad and went for a walk and told me to stay p… It wasn't you?
Jo Wilson: I swear to God it wasn't.
Jenny: Who do you think did it?
Jo Wilson: An avenging angel? 
Jenny: I really thought I was better than you. I believed everything he told me about you. God. I'm smart. I'm a scientist. I'm a feminist. I never thought that I would end up in something like this. It happened so slow. I stopped talking to… to co-workers, friends he didn't like. Then my family didn't understand. They got worried. So I just brushed them off and then stopped talking to them, too, and then my circle got smaller and smaller and smaller until all I had left was him. And then I stopped believing myself, things I had seen and heard, things I knew, because he told me I was crazy and I just believed him. He knows me so well. He can zero in on an insecurity and… and make a whole argument turn on a dime, and now it's my fault… it's my fault again. I'm always the one that's wrong. When he started hitting me, it was just barely a surprise. And he told me it was my fault, and I actually believed him. Until you talked to me yesterday, I really believed him. How did I believe him?
Jo Wilson: Because he was good to you in the beginning. And on the good days. Jenny, we're not stupid. We didn't fall for someone who beat us. We fell for someone who made us laugh and feel wanted and loved and seen. Paul is brilliant and charming and persuasive, and the good outweighed the bad until it didn't. 
April Kepner: The Bible also says that your body's a temple and you should use it to glorify God.
David: I'm trying to, but temptation is everywhere.
April Kepner: Yeah, well, the Bible also says that God doesn't tempt us beyond our ability. He doesn't give us more than we can handle.
David: Look. "If your right hand causes you to sin, you cut it off."
April Kepner: David, when God created the world, he also created metaphors. 
April Kepner: This was an upper-class neighborhood.
Jackson Avery: Yeah, those can be the worst neighborhoods for us. I grew up in those neighborhoods. Just being there is suspicious. Constantly stopped for "fitting the description." I remember I was walking, carrying these speakers for my friend, and these cops pulled up on me. Car screeches to a halt. They jump out, guns drawn, yelling at me to drop everything, slam me into the car, handcuff me. I mean, I was one block from my front door. 
Jenny: You should probably call your office and let them know you're gonna be gone for a few days.
Paul Stadler: That's my girl.
Jenny: Or, like, 10 to 20 years.
Paul Stadler: What?
Jenny: I'm gonna talk to the police, Paul. I'm gonna tell them every time you ever hurt me. Every kick, every slap. You put your hands around my throat last night, so that's not just domestic violence. That's attempted murder.
Paul Stadler: You sound crazy. Jenny, I'm the well-known physician, and you're… nobody. All you're gonna do is throw your career in the garbage. No one's gonna hire someone they don't trust.
Jenny: No, I'm not gonna let you scare me into backing down again.
Paul Stadler: Scare you? I'm the one who should be scared. You're threatening me in a hospital bed. I-I'm defenseless. Please. Can we just talk?
Jenny: Some very broken part of me still loves you, Paul, but let me be very clear… I am never speaking to you again unless it's from a witness stand.
Paul Stadler: You stupid bitch. You're not going to the police! You're not walking out on me!
(Paul charges at her, but falls, hits his head and ends up unconscious) 
Officer: It was a high-pressure situation. An officer made a judgment call.
Jackson Avery: No. There's no judgment in that call. That was just a reaction. You see skin color. We all do. But the reaction that you give to a white kid versus a brown kid in that split second? That's the measurable, fixable difference. Bias is human. You have guns. You're using guns. So yours is lethal.
Other officer: We aren't racist. We just never know who has a gun.
Jackson Avery: I didn't say anything about racist. I said biased. And lucky for us, bias is fixable. You have protocols in place. Those can be adjusted. You can fix it. Or you can keep pretending that it doesn't exist at all. Kids are dying. This kid is dead. For what? So many people that look just like him are dying. For what? 
Miranda Bailey: 12 years old. In his own house. It's time to give Tuck the talk.
Ben Warren: I know.
(Later that day…)
Tuck: I am William George Bailey Jones. I'm 13 years old. And I have nothing to harm you.
Miranda Bailey: That's good, baby. You always have to show the police where your hands are. And always say what you're doing before you do it.
Ben Warren: Be in control of your emotions. Be polite and… and respectful.
Miranda Bailey: Yeah, don't fight back. Don't talk back. Do not make any sudden movements. Remember, your only goal is to get home safely.
Ben Warren: If you get detained, don't sign anything or… or write anything. Wait for a parent before you talk.
Miranda Bailey: And if your white friends are saying things or mouthing off, know that you cannot. You can't go climbing through windows, play with toy guns, throw rocks. And you cannot ever run away from them, no matter how afraid you are.
Ben Warren: Never, never… never run.
Miranda Bailey: Everything that we're saying to you we're saying because we want you to come home again. We want you to grow up to be anything and everything that you want to be. Do you hear me? You… are amazing. You are perfect. And we want you to stay that way. 
Jenny: Do you think he's evil? I mean, I'm a scientist, and I think I'm an atheist. But there's a little part of me that's worried that the girl in Billings is getting an evil kidney.
Jo Wilson: Hmm. I don't believe that anyone is just evil. If people were just one thing, life would be so much simpler. Paul was awful in this life, but now, in death, he gets to do all this good. So there's light and darkness, and they both coexist. And sometimes it's really beautiful.
See all quotes from the series:
Your turn
• What did you think about this episode?
• What is your favorite quote?
If you enjoyed this list, please consider sharing it. I'd appreciate it, thank you!