Enjoy the best quotes / moments from The Good Doctor's episode 'Islands: Part One'.
'Islands: Part One' is the 11th episode of season 1. (s01e11)

In case you don't remember what was this episode about or you're not sure you've seen it, here is summary.
Plot summary
Dr. Marcus Andrews enlists Dr. Neil Melendez on a very sensitive kidney transplant between a pair of twins whose lives intersect in more ways than one. Meanwhile, overwhelmed by Dr. Aaron Glassman's attempts to have him meet with a therapist and the demands at work, Dr. Shaun Murphy decides to take an impromptu trip with his friend Lea and leave everything behind. (
IMDb
)
Top 10 The Good Doctor Quotes from 1×11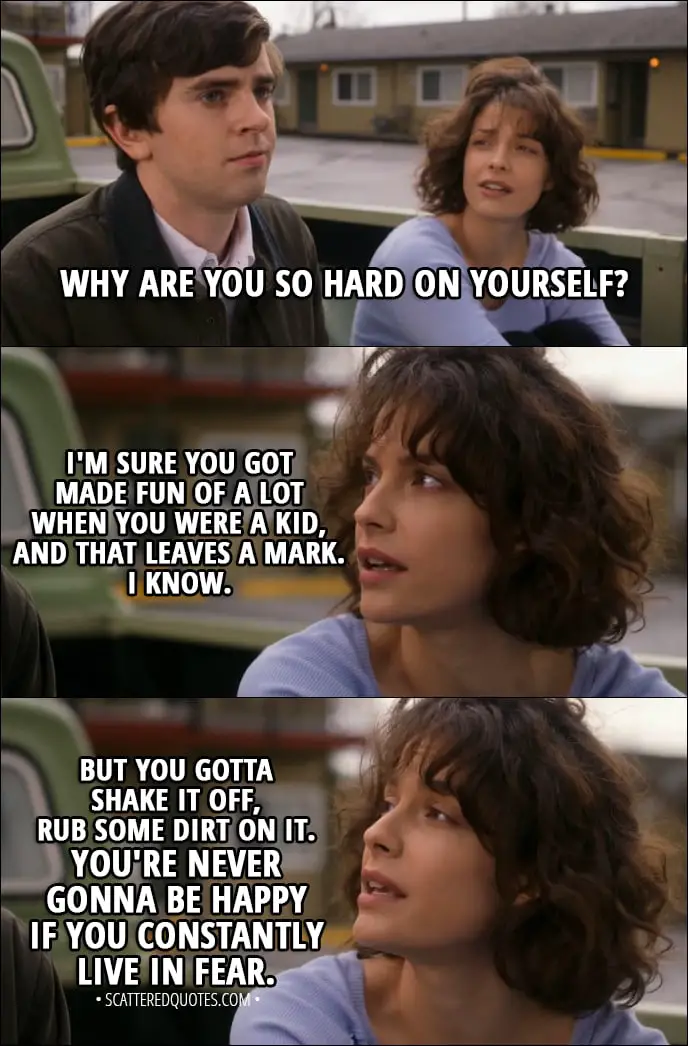 Sorted chronologically as quotes appear in the episode.
Lea (to Shaun): I have a rule. Never make an important decision while you are angry, upset, high, or right before or after having sex. Okay, you are overworked, stressed out, and pissed off at your boss. Now is not the time to be making a big decision. 
Lea (to Shaun): I have so much to teach you, Grasshopper. And I'm gonna start with a good, old-fashioned road trip. It's the perfect way to get your mojo back. And when we return, you're gonna know exactly what to do about San Jose, therapy, and Glassy the Grouch. 

Shaun Murphy: Where are we going?
Lea: Wherever the car takes us.
Shaun Murphy: I don't like the beach.
Lea: Okay, I will let the car know. 
Lea: My Grandpa Rod died last year, and he left me his most prized possession.
Shaun Murphy: It's the S-Striped Tomato.
Lea: Oh, my God. You like "Starsky & Hutch"?
Shaun Murphy: It's okay.
Lea: A meticulous packer and a "Starsky & Hutch" fan. Grandpa Rod would have loved you. 
Marcus Andrews (to Dr. Glassman): You can't protect Murphy forever. At some point, he needs to succeed or fail on his own. 

Lea (to Shaun): I will give you a pass on not liking the beach because you're cute and I might need you to do brain surgery on me someday, but not liking music… unacceptable. 
Claire Browne (to Dr. Melendez): Finding someone you can't imagine a life without, it's hard. I know it's a cliché, but it is true. 

Lea (to Shaun): Open the door for me. Now, if I just walk in, don't bother trying for a second date. It's a swing and a miss, not a big deal. It happens to everyone. But if I don't walk in, if I just stand there in front of you like I don't really want to go inside, like I'm doing right now, then you have to kiss me. Kiss me, Shaun. 
Lea (to Shaun): Why are you so hard on yourself? I'm sure you got made fun of a lot when you were a kid, and that leaves a mark. I know. But you gotta shake it off, rub some dirt on it. You're never gonna be happy if you constantly live in fear. 
Lea: No more conference calls. No more never-ending meetings. The only thing I'm not looking forward to is, uh… is moving.
Shaun Murphy: Why would you move?
Lea: Because that's where the shop that I'm gonna work at is. I got the Striped Tomato. My brother, Donny, got Grandpa Rod's shop in Hershey, Pennsylvania. It's been over a year, but every time I drive his car, I… keep thinking… "You know, I don't need a more impressive title or $1 million." He would take me fishing in Alaska every summer, skiing every winter break. I haven't taken more than one day off in four years because I always work. It never stops. And just taking this trip with you made me realize I, uh… I want to enjoy my life, you know?
More The Good Doctor Quotes:
All quotes from The Good Doctor
Previous list:
» 11 Best 'The Good Doctor' Quotes from 'Burnt Food' (1×01)
Your turn
• What did you think about this episode?
• What is your favorite quote?
If you enjoyed this list, please consider sharing it. I'd appreciate it, thank you!