Enjoy the best quotes / moments from Game of Thrones' episode 'Mhysa'.
'Mhysa' is the 10th episode of season two. (s02e10)

In case you don't remember what was this episode about or you're not sure you've seen it, here is summary.
Plot summary
The news of the red wedding has reached King's Landing and Tywin Lannister calls a meeting of the small council. Joffery rejoices at the news but no one supports his plan to present Sansa with Robb's head at his wedding to Margaery. Arya flees the Twins with Sandor Clegane as her protector but not before she sees what they've done to Robb. She exacts a modicum of revenge. Ygritte catches up with Jon Snow but he survives the encounter making it to Castle Black as do Sam and Gilly. Bran makes it through the wall and into the unknown lands. Jaime and Brienne arrive in King's Landing.At Yunkai, Daenerys awaits the reaction of the thousands of slaves who are now free. (IMDb)

Top 10 Game of Thrones Quotes from 2×10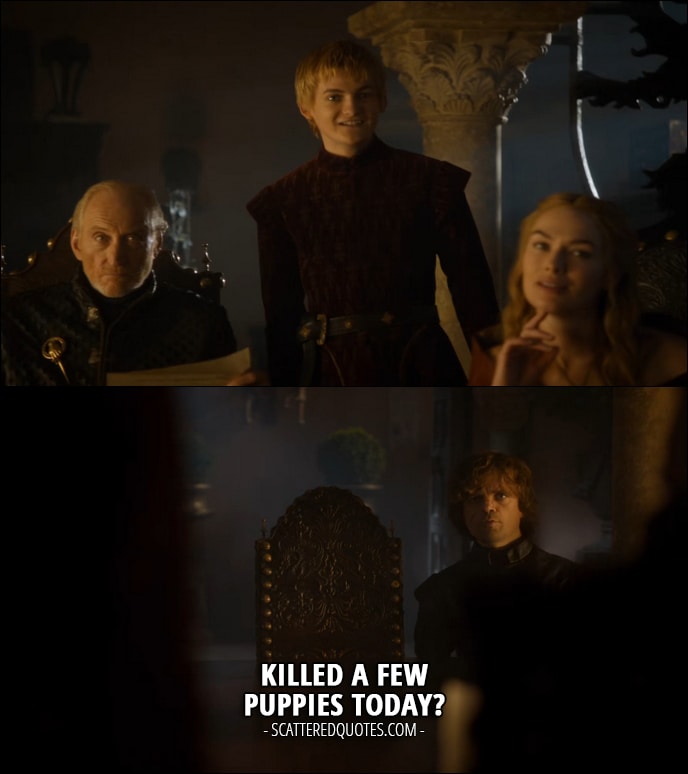 Ordered chronologically as they appear in the episode.
Tyrion Lannister: Ser Eldrick Sarsfield and Lord Desmond Crakehall. Ser Eldrick Sarsfield and Lord Desmond Crakehall.
Sansa Stark: What are you doing?
Tyrion Lannister: I have a list.
Sansa Stark: A list of people you mean to kill?
Tyrion Lannister: For laughing at me? Do I look like Joffrey to you? 
Tyrion Lannister: I'm the Halfman, the Demon Monkey, the Imp.
Sansa Stark: You're a Lannister. I am the disgraced daughter of the traitor Ned Stark.
Tyrion Lannister: The disgraced daughter and the Demon Monkey. We're perfect for each other. 
Tyrion Lannister (to Joffrey): Killed a few puppies today?
(referring to Joffrey being way too happy) 

Joffrey Baratheon: Everyone is mine to torment. You'd do well to remember that, you little monster.
Tyrion Lannister: Oh, I'm a monster. Perhaps you should speak to me more softly, then. Monsters are dangerous and just now kings are dying like flies. 
Joffrey Baratheon (to Tyrion): I am the king! I will punish you.
Tywin Lannister: Any man who must say, "I am the king" is no true king. 

Tywin Lannister: The king is tired. See him to his chambers.
Joffrey Baratheon: I'm not tired!
Tyrion Lannister (to Tywin): You just sent the most powerful man in Westeros to bed without his supper. 
Tywin Lannister (to Tyrion): The day that you were born. I wanted to carry you into the sea and let the waves wash you away. Instead, I let you live. And I brought you up as my son. Because you're a Lannister. 
Ramsay Snow (to Theon): People talk about phantom limbs. An amputee might have an itch where his foot used to be. So I've always wondered… do eunuchs have a phantom cock? Next time you think about naked girls, would you feel an itch? Sorry. I shouldn't make jokes. My mother taught me not to throw stones at cripples. But my father taught me to aim for their head. 
Balon Greyjoy (reading letter from Ramsey): "In the box you'll find a special gift… Theon's favorite toy. He cried when I took it away from him. Leave the North now or more boxes will follow with more Theon." 
Varys (to Shae): Tyrion Lannister is one of the few people alive who could make this country a better place. He has the mind for it, he has the will, he has the right last name. And you… you are a complication.
More quotes from Game of Thrones:
» All quotes from Game of Thrones
Previous lists:
» 10 Best Game of Thrones Quotes from 'Blackwater' (2×09)
» 12 Best Game of Thrones Quotes from 'The Night Lands' (2×02)
» 14 Best Game of Thrones Quotes from 'The Wolf and the Lion' (1×05)
» 14 Best Game of Thrones Quotes from 'Winter Is Coming' (1×01)