Enjoy the best quotes from Doctor Who's episode 'The Woman Who Fell to Earth'.
'The Woman Who Fell to Earth' is the first episode of season 11. (s11e01)

If you're in need of refreshing your memory before jumping in the quotes, here is a short summary of the plot.
Plot summary
In a South Yorkshire city, Ryan Sinclair, Yasmin Khan and Graham O'Brien are about to have their lives changed forever, as a mysterious woman, unable to remember her own name, falls from the night sky. (IMDb)
Top 10 'Doctor Who' Quotes from 11×01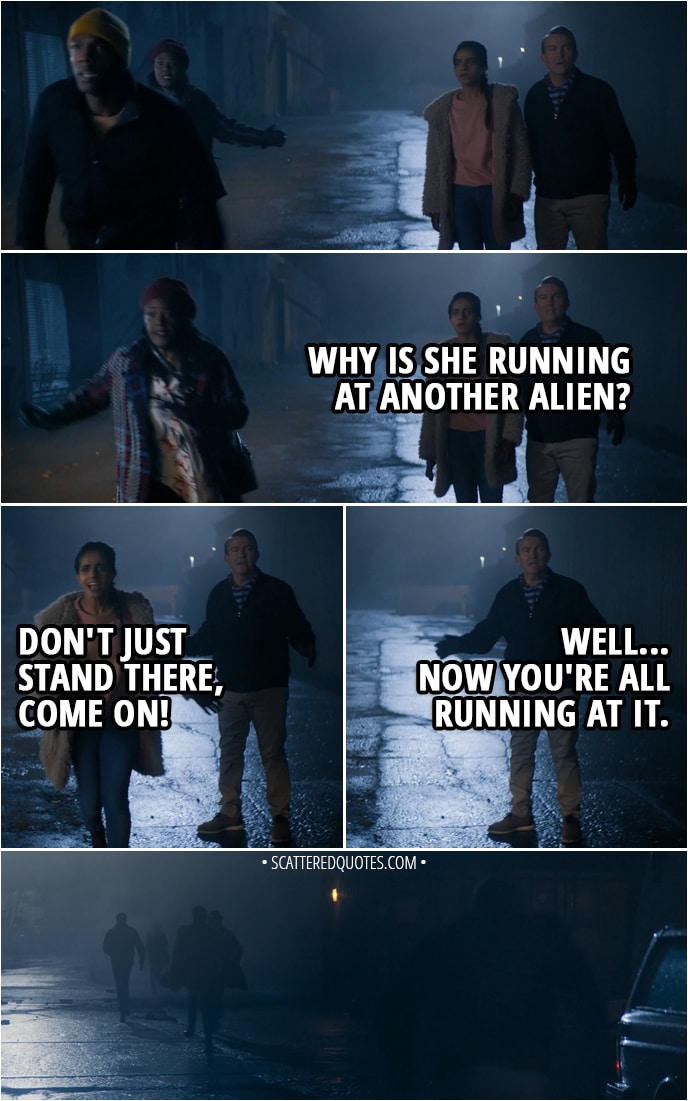 Sorted chronologically as quotes appear in the episode.
13th Doctor: Why are you calling me "madam"?
Yasmin Khan: Because you're a woman.
13th Doctor: Am I? Does it suit me?
Yasmin Khan: What?
13th Doctor: Oh, yeah! I remember. Sorry, half an hour ago I was a white-haired Scotsman.
(Doctor, Grace and Ryan run after the alien)
Graham O'Brien: Why is she running at another alien?
Yasmin Khan: Don't just stand there, come on!
Graham O'Brien: Well… Now you're all running at it. 
Ryan Sinclair: When I went to get my bike, there was this line in the air and then it moved and there were shapes.
13th Doctor: And?
Ryan Sinclair: And I touched one.
Grace: Ryan.
Ryan Sinclair: You all would have done the same.
Graham O'Brien: I wouldn't.
13th Doctor: I would have. 
Graham O'Brien: You don't look like an alien.
13th Doctor: You should have seen me a few hours back. My whole body changed. Every cell in my body burning. Some of them are still at it now, reordering, regenerating.
Grace: Sounds painful, love.
13th Doctor: You have no idea. There's this moment where you're sure you're about to die and then you're born. It's terrifying. Right now I'm a stranger to myself. There's echoes of who I was and a sort of call towards who I am. And I have to hold my nerve and trust all these new instincts. Shape myself towards them. I'll be fine. In the end. Hopefully. Well, I have to be, because you guys need help and if there's one thing I'm certain of, when people need help, I never refuse. Right? This is going to be fun. 
13th Doctor: Sonic Screwdriver. Well, I say Screwdriver, but it's a bit more multi-purpose than that. Scanner, diagnostics, tin opener. More of a Sonic Swiss Army knife. Only without the knife. Only idiots carry knives. 
(Doctor barely makes a long jump)
13th Doctor: These legs definitely used to be longer. 
Grace: Is it wrong to be enjoying this?
Graham O'Brien: Yes! 

13th Doctor: We're all capable of the most incredible change. We can evolve while still staying true to who we are. We can honour who we've been and choose who we want to be next.
Tim Shaw: Who are you?
13th Doctor: Oh, yes, I'm glad you asked that again. Bit of adrenaline, dash of outrage, and a hint of panic knitted my brain back together. I know exactly who I am. I'm the Doctor. Sorting out fair play throughout the universe. Now, please, get off this planet while you still have a choice.

Yasmin Khan: So everything we saw, everything we've lied to people about, is this normal for you?
13th Doctor: I'm just a traveller. Sometimes I see things need fixin'. I do what I can.
See all quotes from the series:
Your turn
• What do you think about the new Doctor?
• What is your favorite quote from this episode?
If you enjoyed this list, please consider sharing it. We'd appreciate it, thank you!